Sometimes even I surprise myself.
Last year, in a post focused on the spirit of place, I wrote these words:
Walls hold secrets. Memories are something we make.
Oh, to be a fly on a wall when something we're not privy to is taking place!  The walls I'm mostly thinking about are the ones that give definition to the places I've lived.  They may be repainted and redecorated, but, barring any demolition, they remain standing.  Stepping into a room you once inhabited is bound to be riddled with emotion. Nostalgia for what's gone may kick in, unless a nagging sense of what was really never there gets the best of you.
Memories are of a more fluid nature.  It's one thing to understand the neurological processes that give shape to them in the first place, another thing altogether to laugh or cry at the spontaneous recall of some past moment triggered by a smell/a sound/a conversation or scratch your head in frustration at something that never gets past the tip of your tongue.
The gorgeous, bittersweet saxophone of John Coltrane tells me it's easy to remember but so hard to forget.
I'm not so sure it isn't the other way around.
Ask me the date of my mother's death, and I still say 17 Nissan, the third day of Passover. That's what the Jewish (lunar) calendar tells me, and that would be today.  The secular (solar) calendar marks her death on April 8, 1993. Don't ask me if it's a good thing or a bad thing, but the disconnect between the two different ways of marking time had me unable to recall the April 8th date for at least a few years after she died.
Passover, like Easter, is nothing if not a spring ritual, each holiday underscored by stories of renewal, not to mention death and resurrection. Photographs help me recall a time when there was no Passover without a Seder.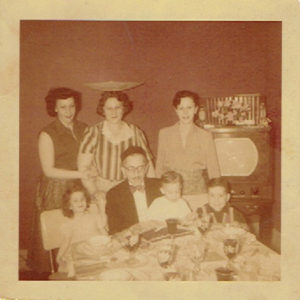 Young as I was, there was always that moment of mystery and magic—opening the door for Elijah the prophet, checking the level of wine in the cup left on the table for him to see if he really did take a sip. That would be my sign that all was okay.
Sentimentality, coupled with a sense of keeping some semblance of tradition, would have my family continuing to gather for Passover after my grandfather died. But the Seder would fall apart like crumbled matzoh without his guiding presence. Memory may (or may not) fail me but the last Seder I recall ended in a fight between my uncles. So the ritual of gathering to tell a story of enslavement and freedom would give way to the ritual of gathering simply to eat. It was my mother and aunt who held it together, with their cooking.
Food as ritual? You tell me. With each passing generation something is lost. These days I do some semblance of a modernized Seder to bring together friends and family.
And I do my best to remember.