The other day I had a yearning, very specific in its musical nature. I wanted/needed to hear "Dance me to the End of Love," à la Leonard Cohen when he first recorded it. Maybe not an anthem song in the way "Hallelujah" is, but there must be a reason his last two tours opened with that number. It's a set-list/strategy that works. Make a show of time with a song of yearning transformed into a wistful waltz.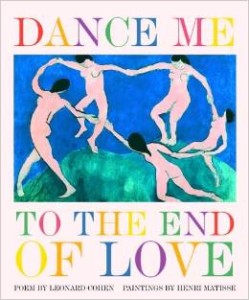 Tracking down the original is easy these days. Yes, you have to be a fan to appreciate his voice (not that 'voice' was ever his strong point). And, yes, only a fan would want to go back, immerse herself in the sound/the spirit/the poetry that first hooked her. For all the change, subtle and otherwise, that years bring to a singer/songwriter, any song is bound to be infused with echoes of its earlier incarnation.
I downloaded. I listened. Found myself transported, in an instant, to another time and place. Nothing does that to me the way a piece of music does. Don't ask how many nights I needed those "Sisters of Mercy" or slipped into the longing of "Suzanne." Or told a boyfriend that's no way to say good-bye.
But this is not about being maudlin (though I can be). It's about the power of music, the way it infuses itself into your heart/your soul/your bloodstream. It's about the ways in which a piece of music courses through your body, taking you back, no line between today and yesterday. Here I am/there I was: sprawled on a white Haitian cotton couch, head resting against the pillows, a twenty-something living in a NYC studio apartment, my sanctuary. Take a toke, pump up the volume. Feel the space between the notes and the lyrics. Leonard Cohen got to that crack in my heart. Janis Joplin took a piece of it. Billie Holliday made it ache.
Pink Floyd required my undivided attention.
Bob Dylan LPs had a shelf of their own.
Rubinstein playing Rachmaninoff's "Piano Concerto No. 2" brought me to tears more than once. When I got around to reading the liner notes (something I still resist before getting my own impression), I learned that the great Russian composer was emerging from a period of despair when he wrote this concerto. Doesn't the heart know what the mind takes time to figure out?
I happened to live next door to a talented concert pianist. He lived next door to the disco kid. It was the '80s. Walking down the corridor to my apartment gave new meaning to the battle of the bands. We were all friends.
Turns out my concert pianist friend, Michael Lewin, is a featured artist on "Winds of Samsara," which won the 2015 Grammy for best New Age Album.   Not long ago I felt compelled to reconnect in the way that old friends do on Facebook. Now I had reason to give a congratulatory shout-out, share the news on my wall, along with a You Tube link of him playing the Ricky Kej/Wouter Kellerman arrangement of a Chopin nocturne I love. What a thrill!
Better yet, it brought us from Facebook to e-mail. We did our best to catch up on twenty+ years. He asked me to choose a CD I'd like in exchange for my book. If just sampling the range of possibilities via his website brought it all back home to me—the sound of his Steinway echoing through the walls—imagine the sensation when I listen to that full spectrum of birdsong made manifest in his enchanting CD, If I Were a Bird. Now I know something even more about him than I did back when.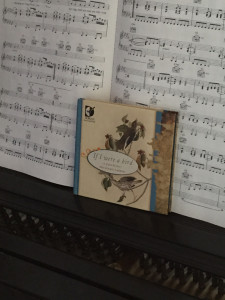 Music is infused into the very fabric of more than one novel by Richard Powers, including his latest, Orfeo.   A glimpse into his way with words may tell you why I just can't get enough of his work.
Music forecasts the past, recalls the future. Now and then the difference falls away, and in one simple gift of circling sound, the ear solves the scrambled cryptogram. One abiding rhythm, present and always, and you're free. But a few measures more, and the cloak of time closes back around you.