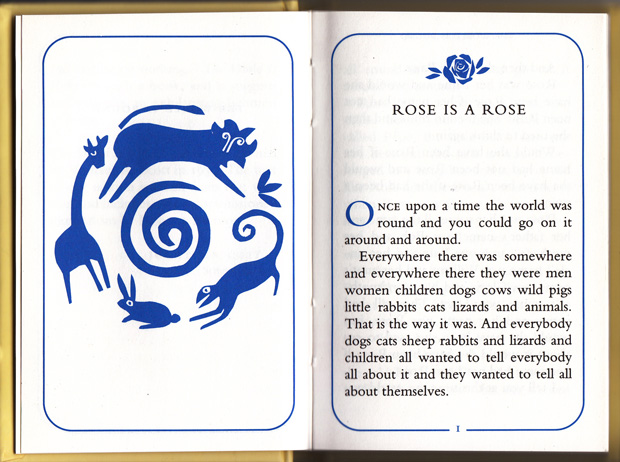 In the last gallery of The Steins Collect, which recently ended its run at the Metropolitan Museum, is a glass case with books, their own form of art by virtue of both writer and illustrator.  What captures my attention is not the fact that Gertrude Stein employed her inimitable prose style to write a children's book, The World Is Round, so much as the page to which the book is open: 'Rose is a rose.' Which of course got me wondering when and how 'Rose is rose' became 'A rose is a rose is a rose.'  A simple article at the beginning of a sentence makes all the difference in the world.
Last week people all over the world were entranced by a black dot making its way across the sun. As language goes, it doesn't get much more poetic than 'the transit of Venus.' I'd read Shirley Hazzard's novel many years ago, captivated by the title. Even if I knew little about what it meant from an astronomer's point of view, I knew enough about Venus in all her mythological and metaphoric allusions.  Frankie Avalon sings to me each time I catch a glimpse of that first diamond in the sky at dusk. She may well be a planet but there's every reason we call her a star. The prospect of witnessing metaphor transformed into something measurable – something never to be seen again in this lifetime — is too tempting. And if I did not have the proper glasses for looking up at the sun (without going blind), I do have an iPad on which I can watch the NASA livestream. What the eye can't readily see, the mind can readily imagine.
   "Once upon a time the world was round and you could go on it around and around.
    Everywhere there was somewhere and everywhere there were men women children dogs cows wild pigs little rabbits cats lizards and animals. That is the way it was. And everybody dogs cats sheep rabbits and lizards and children all wanted to tell everybody all about it and they wanted to tell all about themselves.
    And then there was Rose.
    Rose was her name and would she have been rose if her name had not been Rose."
Watching Midnight in Paris a second time is even better than the first, especially after the exhilarating experience of viewing paintings by Matisse and Picabia, Juan Gris and "a young Spaniard named Picasso" against a backdrop of black-and-white projections that transport you to a very particular time (early 1900s) and place (27, rue de Fleurus). Woody Allen, with his mix of romanticism and comedy and intellectual grappling with what it is that makes for great art, got it just right.
I turn the tables, imagine Gertrude herself walking with me through another exhibition, this one at MOMA, that somehow evokes the very experimentation with language that is her genius. From the picture poem by Guillaume Apollinaire to Marcel Duchamp's 'Disk inscribed with pun . . . ' to collages by Paulina Olowska, Ecstatic Alphabets/Heaps of Language explores the creative interplay between text/visual art as well as text/sound art. There are many pieces I imagine would capture her interest, and, if she happens to pick up one of the handsets in 'Dial-a-Poem,' she just might hear these words from Michael McClure's 'Lion Poem':  'I love to think of the red purple rose/ in the darkness cooled by the night. . . '
Like some other Beat poets, Michael McClure was a practicing Buddhist, something that can't help but cross my mind as I sip a glass of wine and read Rumi poems in the cafe of the Rubin Museum of Art. Every time I visit here, I marvel at the fact that what feels like sanctuary to me was once the epitome of high fashion, Barney's, jewels by the likes of Robert Lee Morris replaced by the gold and silver in paintings and artifacts and the gorgeous manuscripts and books on display in Illuminated: the Art of Sacred Books. In this age of instant e-books and print-on-demand publishing, I can't help but marvel at the shape of ancient books, with their hand-made pages folded concertina-style between hand-carved wooden covers, not to mention the time and care and devotion it took to create them. The religious purpose is almost beside the point.  I learn, too, that to be a scribe was to hold a position of power and pride. Which strikes me as proof positive that the pen is indeed mightier than the sword.